Hi guys! I hope you are doing good today. In this post, I am introducing a newly added feature Trophies to 8 Ball Pool in Beta program!
Trophy Road
Trophy Road is the new progression system allows you to collect trophies with every win so that you may unlock many new rewards free. Trophy road is free to play, you don't need to pay anything to unlock trophy road.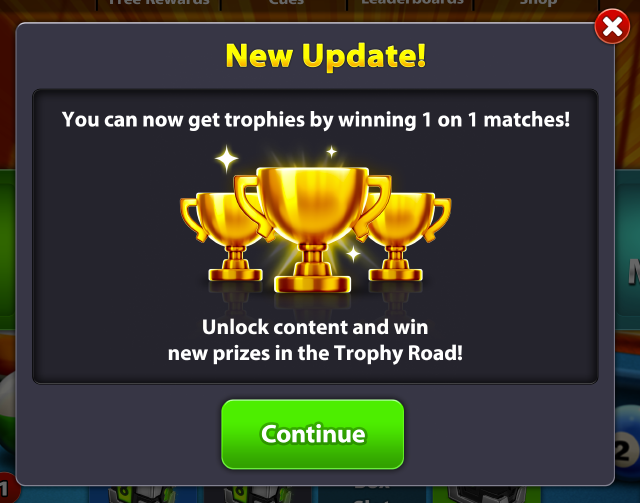 If I unlock a prize in the Trophy Road but then lose Trophies, will I lose that prize?
No, much like the tables and the Leagues, once you earn a prize from the Trophy Road, you can claim it whenever you want, even if you lose Trophies.
Free Rewards
Win trophies to complete the Trophy Road to receive amazing rewards on this journey. There are a total of 12500 trophies you can collect to unlock all rewards in the trophy road. Collect free coin, cue, cash, golden spin, lucky shot, goldens shot, scratchers, spins, victory box and legendary boxes from Trophy road.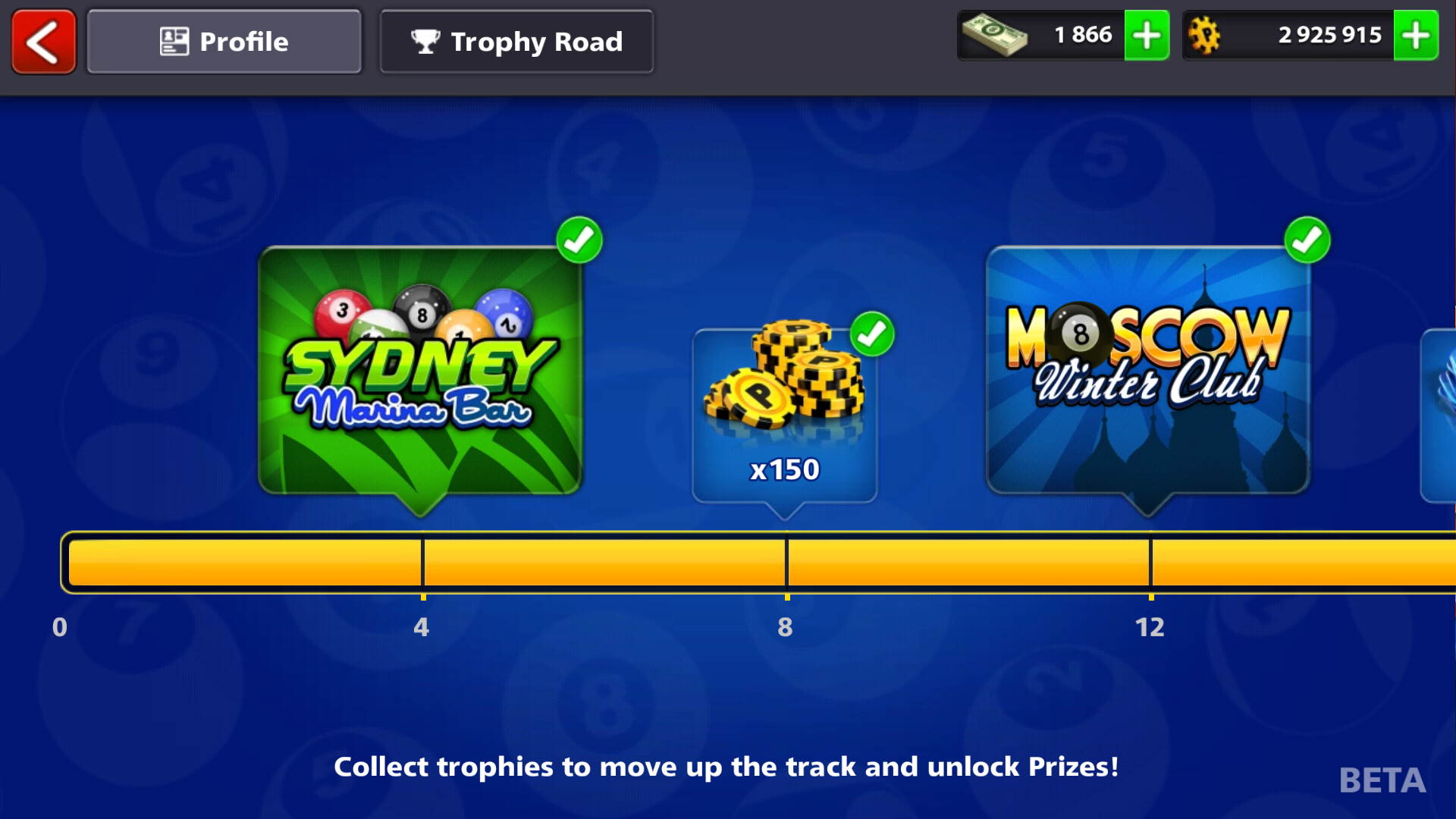 Win-Loss Trophies
All tables will now show your trophy progression as well as the amount of trophy you win or lose according to your match progress. For example, if you win the match in berlin you win 100 trophies and if you lose you will lose 100 trophies of that specific table.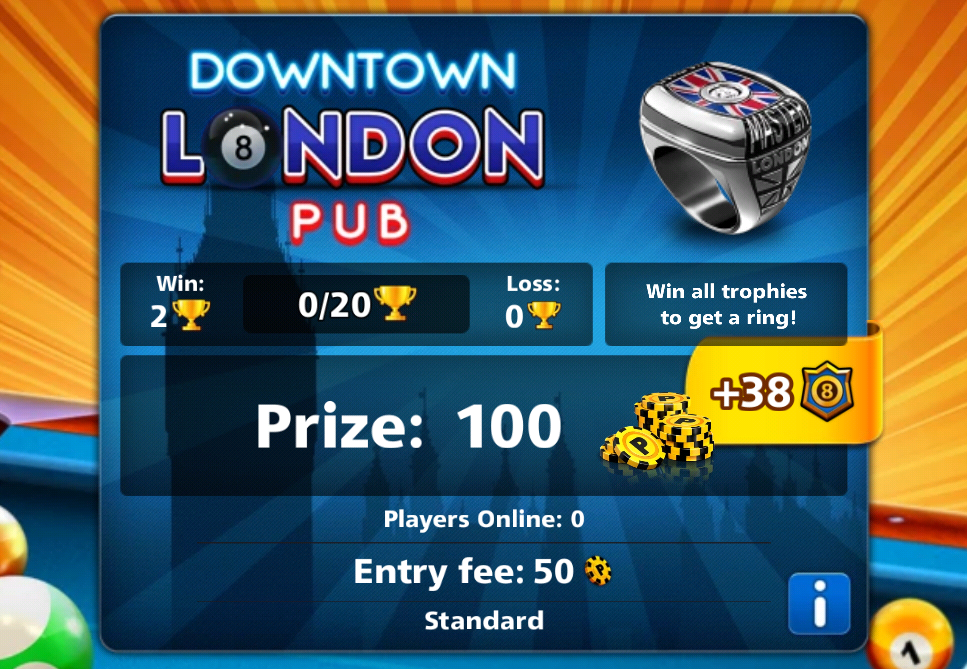 Where can I win Trophies? 
You can win Trophies on all Tables in the "Play 1on1" tab, except Monaco All In Lounge.
Can I win Trophies in 9 Ball, Tournaments and No Guidelines?
No, currently, Trophies are not available on any of those Tables.
Can I win Trophies in Monaco All-In?
No, currently, Trophies are not available on Monaco All-In.
Can I win Trophies in the Pro Subscription Exclusive Tables?
Yes, you can win Trophies on both Monte Carlo Salon and Venice Ballroom.
Can I win Trophies in Win Streaks, Championships and Second Round Tournaments?
No, Trophies are not available in Time-Limited Events.
If I stop my Pro Subscription, do I lose my Trophies from Monte Carlo Salon and Venice Ballroom?
No, even if you stop your subscription, you will keep any Trophies you have won. But you can only win additional Trophies on those tables if you subscribe again.
Can I go below 0 Trophies?
No, you can't go below 0 Trophies on any table. If you have no trophies and lose a match, no Trophies will be deducted.
Can I lose Trophies after completing a table?
No, once you "complete" a table (you get all the Trophies), you will neither win nor lose any Trophies from then on.
Can I play the same opponent over and over to get more Trophies?
You can only win or lose Trophies from the same opponent once per week. Any rematches that happen will not increase or deduct your Trophies.
Table Unlock
Tables are now Trophy Locked instead of level unlock. Unlock more trophies to unlock the higher tier table. The increasing level will not unlock tables now.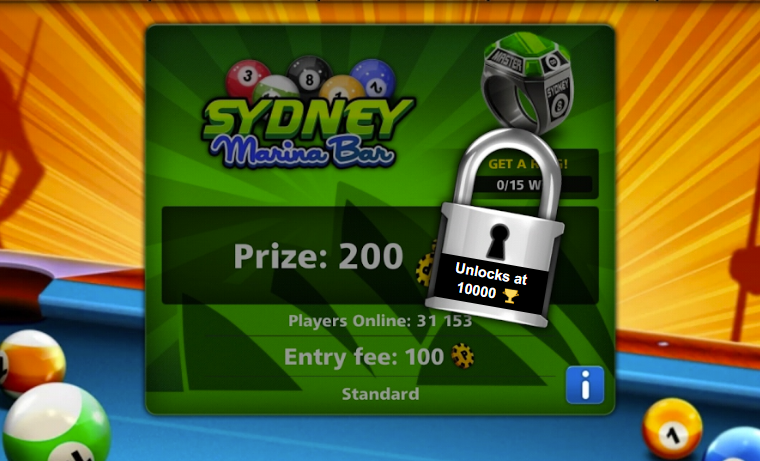 Rings
To unlock any table rings you need to win the required number of trophies of that table. For example if you want berlin ring you need to win 30000 berlin trophies by winning 30 matches.
How do I get Rings now?
For the first ring in any table, you must "complete" it. In other words, get all the Trophies for that table. After completing the table, you can win additional Rings by winning matches, just like before.
Why do I have some Trophies already?
In order to not force you to go back to tables you have already played, we are giving Trophies for matches you have already won. And if you had won a Ring in the past, you will automatically get all Trophies for that Ring's table (Berlin Platz and Venice Ballroom are exceptions to this rule).
Did I lose any Rings?
No, even though some tables may show that you will win a Ring for getting all the Trophies, you will keep any Rings you already have.
Leatherboard
Leagues and Leaderboards have also been reworked to reflect these changes. Now your league depends on how much trophies you have in your account. Your existing account will not downgrade according to trophies.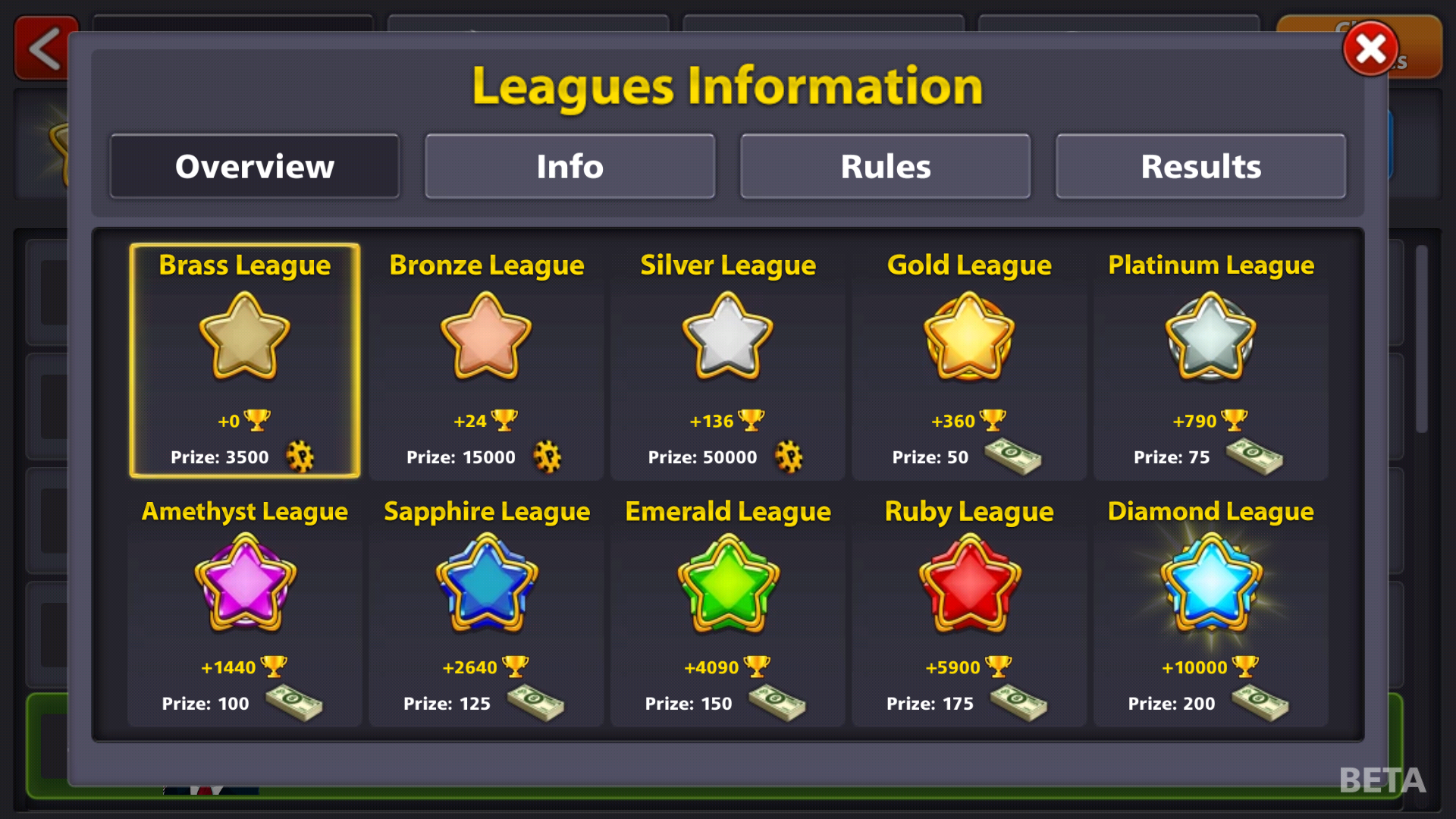 Do the Leaderboards use Trophies to rank players?
No, currently no leaderboard uses Trophies to rank players. However, the way you move up in Leagues in the My League leaderboard now depends on your Trophy count, rather than level.
If I unlock a table or League but then lose Trophies, will I lose access to the table?
No, once unlocked, you will never lose access to tables or Leagues.
Achievements
Win trophies to unlock 4 brand new achievements in 8 ball pool account. New trophies are Trophy Veteran, Trophy Pro, Trophy Master, and Trophy Legend.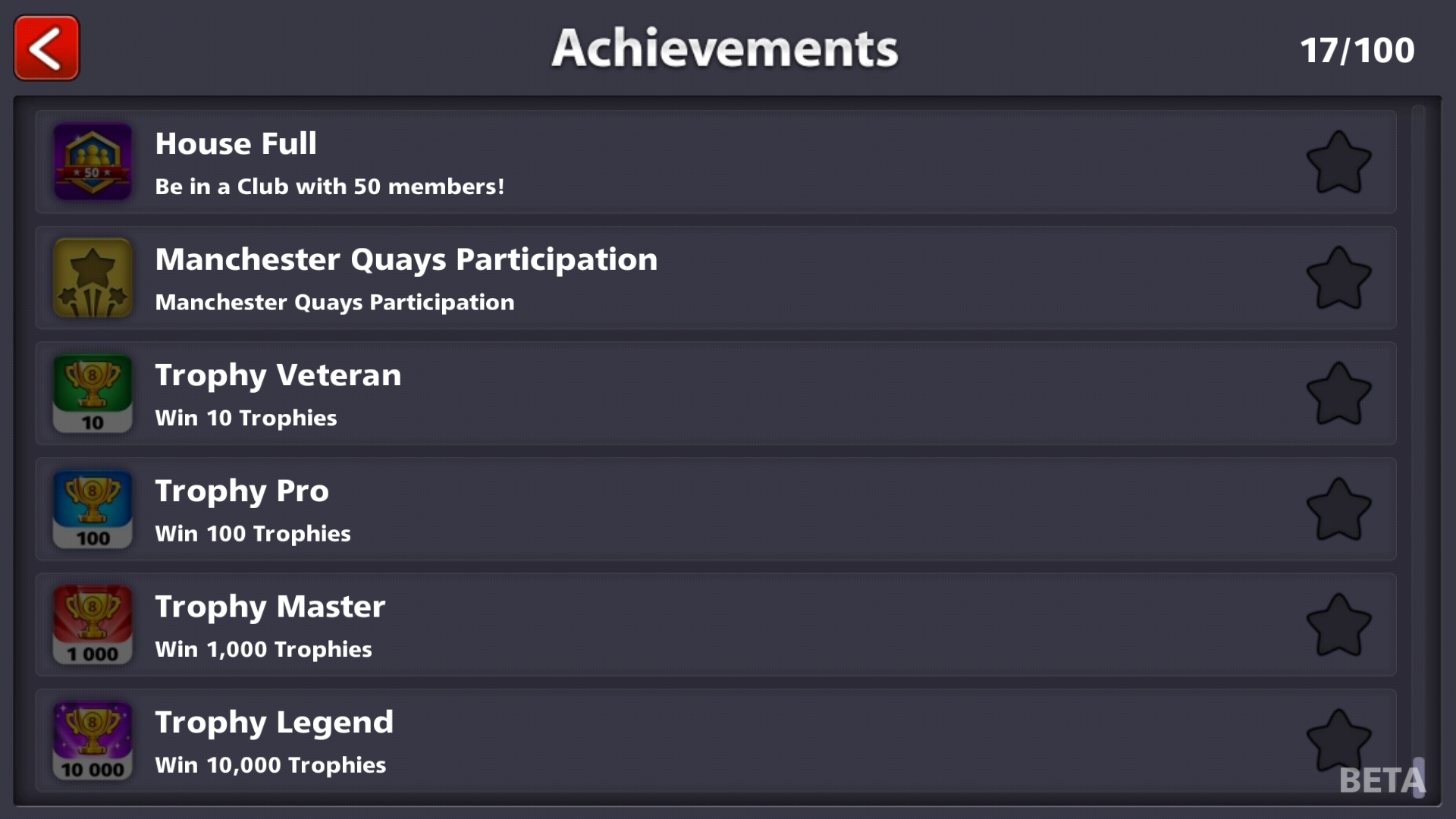 Important
No trophies can be won or lost when playing matches with friends or club mates.

No trophies can be won or lost if the player has already played against the same opponent that week.

Rings will still be won, but only after the player completes the full tier for that specific table. (no trophies will be won or lost beyond this point)
Download 8 Ball Pool Trophy Road Version
Download the-version of 8 ball pool without joining the beta tester program on play store. Download 8 ball pool Beta Version by clicking the download button below.
8 Ball Pool Reward Link:
How To Install 8 Ball Pool APK
Download APK and open it using your favorite File manager and install it by tapping on the file name. If the installation does not start then, you need to enable unknown sources from your Android settings
Go to Settings » Security » Unknown Sources on your phone.
Mark Tick on "Unknown Sources" to enable it.
Don't Know How to Install? Don't Be Worries at all; I have a media Guide For you Figuring out How to Install 8 ball pool all version for free Step by Step.
In Step-1 You need to Download 8 ball pool APK by clicking on the download button above.
At Step-2 You have To Open Package with Installer.
Now You have to click on the Install button to begin the installation process.
Click on Open To Start Your Application.
Make sure you have a working internet connection.
That's all you need.